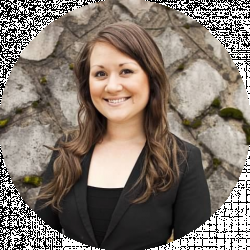 Latest posts by Lacey Jackson
(see all)
Learning a musical instrument, like the trumpet, as a child brings with it a wide range of benefits. It can improve concentration, social skills, memory, and organization. Research indicates that regularly playing an instrument can add up to 7 IQ points in children.
Once a child picks their instrument, it's important that they are comfortable with it and know how to hold it right before starting their journey toward musical proficiency. Knowing how to find the best kid's trumpet is an essential part of getting them started.
The trumpet is one of the more popular brass instruments, especially for children and younger players, because it can be incorporated into orchestra, wind band, and jazz ensemble situations, it's affordable, and it's portable. It's much harder to pick up a piano and carry it back and forth to class!
Bottom Line Up Front
The Bb version is the most common for new players and is also the most popular. I recommend the Yamaha because it is a reliable manufacturer that has been around for a while, it isn't a toy model for small children, but it is affordable and perfect for kids in school. If, however, your kid is much younger, then the toy model by Simlug will work for a few months. 
Biggest Challenges for Kids
Kids and younger players have two main challenges when they start to play the trumpet:
Holding the Trumpet
The first is being able to hold the trumpet at the appropriate distance. Younger students will struggle with oversized instruments that aren't the right size, and if it's uncomfortable, that same younger student is less likely to practice and more likely to give up on their instrument altogether.
More importantly, not sitting properly will hinder lung capacity. Hunching over constricts and compresses the diaphragm making it even more challenging to get the right amount of airflow through the instrument. If a child can't properly hold their trumpet, they are more likely to unintentionally hunch over as they try and make the reach.
Having Good Embouchure
Developing an embouchure or mouth position takes years. Each musician has to do it individually based on small adjustments over time.
Note: Children shouldn't learn to play the trumpet until they have their adult teeth in place. Having stable teeth positions will help them set the foundation for their embouchure development.
Tip: If you don't want to wait for your child to have all of their adult teeth, you can start them out on a plastic trumpet or a cornet.
Plastic Trumpet
A plastic trumpet comes in many sizes and is made of lightweight material. If a plastic trumpet breaks, you'll have to replace the entire thing, not just get a single part repaired. Bear in mind that a plastic instrument might be easier for your child to use without their adult teeth, but it will still have the same physical dimensions, so they need to be able to physically hold the instrument.
Cornet
The cornet is lighter and physically smaller than a trumpet with the same range and finger positions. I recommend my students start with the cornet if they are very young because they can still learn the right finger positions and the right sound and easily switch to the Bb trumpet and apply those same skills once they get their adult teeth.
Rent or Buy
If you are shopping for a kid's trumpet, you are probably concerned about whether you should rent or buy. Growing up, we were strapped for cash, but our local music shop offered a rent-to-own deal or regular monthly rentals. 
It was the former that provided the first instrument my family owned. It was a violin played by one of my siblings. My family always rented new instruments because, as any parent knows, kids don't normally keep their interest focused on one thing. At best, kids will play a sports, an instrument, or do any other extracurricular activity for about one season or one year before deciding they hate that particular thing, and now all they care about is something else (I decided I hated soccer and wanted to do cheerleading at one point, but given how much soccer had cost and the fact that my hate sprang up on the very first practice, I had to at least finish the season). 
I tell you all this because we didn't rent instruments on a flat monthly fee once we committed to a particular instrument. After that, we just saved up the money we would have spent on a rental over the course of summer break and put it toward buying a new instrument at the start of the school year. We only had to do that once, and then we had an instrument that we could use moving forward.
Do the Math
If you absolutely can't afford to buy a brass instrument, finding a rental is a perfectly good option when you first start but depending on how much you pay for your rental, you could easily end up paying two or three times the cost of buying a new student instrument. 
Between the time I was a child and now, the prices for trumpets and just about every other instrument have gone down tremendously. With more manufacturers flooding the market and increased International production, you can find fairly reasonable trumpets at affordable prices. I would advise you to do the math based on where you live and what rental options you have available. 
Selection Criteria
Knowing how to find the best kids trumpet means investing in something that won't just break down after a few uses. Student models are good for children and younger players because they are usually well made but aren't so advanced that they break the bank. So for all of the best kids trumpets I have included on this list, I looked over customer reviews, the sound quality, the value, and how durable the instrument is. 
How to Find the Best Kids Trumpet: My Top Picks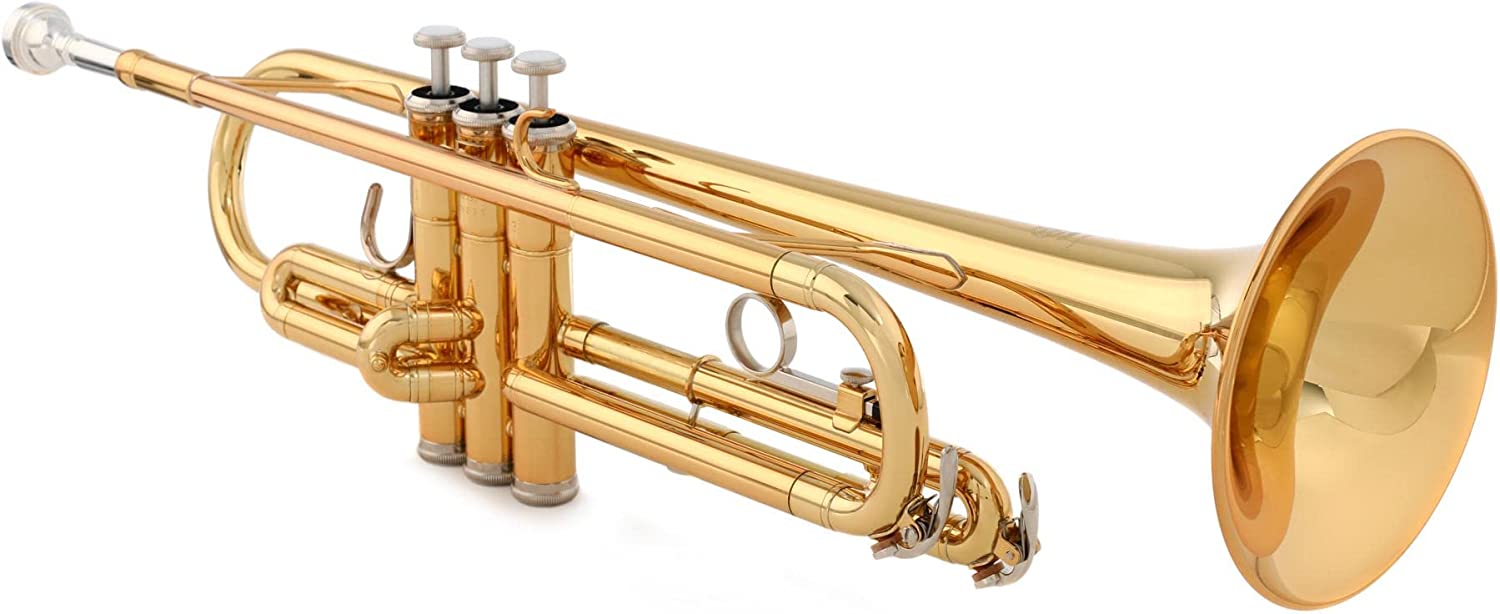 Yamaha is a good name for beginners. They are a Japanese company, and I really like their business model. Yes, this trumpet is made in China, but a Japanese company produces it, so it's held to Japanese standards. The trumpet itself is great for beginners, and it should last all the way through intermediate playing.
In fact, if your child plans to stick with the trumpet, you probably won't have to buy them a new one until they graduate. 
I'm not the only one who loves it. Hundreds of online customer reviews say it offers great value for the money, is perfect for beginners, and has a beautiful sound quality because of how finely made it is.
Yamaha is known for pianos, brass instruments, and a few stringed items. The Yamaha Standard Bb Trumpet is one of the better student trumpet models. It gives a constant, vibrant tone and easy to play with so children won't get discouraged. 
Pros
It has a two-piece bell design.

It comes with a mouthpiece. 

The brass and gold materials give it a warm tone. 
Cons
It is a student model, so don't expect it to work as an investment if you already play the trumpet well. 

You will need to buy a case.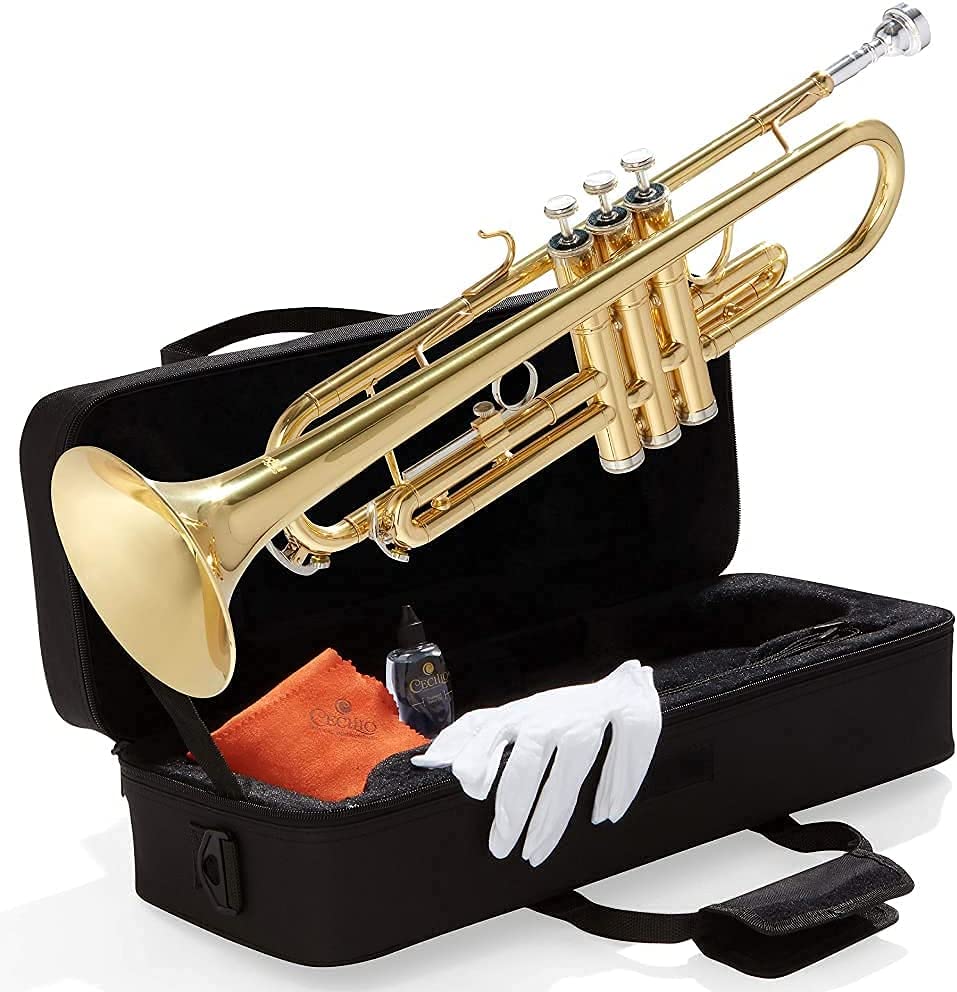 The Mendini by Cecilio Trumpet is a standard Bb in gold. Mendini is always a good starter brand, especially for kids. You get a case in which to store your trumpets, oil, gloves, and a cleaning cloth. 
They give you everything you need, and I am still frugal enough that I absolutely love musical instruments that provide all the accessories you need to take care of your instrument and keep it protected. I despise picking up a new instrument only to be told later that I can't really use it effectively until I buy six other accessories.
Now, one of the things I don't like about Mendini is that it's an even cheaper version of Cecilio. Cecilio is very well known for providing student models, so the Mendini line is one step down, but that's what makes it perfect for kids. They still put the craftsmanship into their products, so the sound quality isn't compromised; it won't be so challenging to play that your kids give up, but it also won't break the bank. 
Yes, some of the customer reviews point out how cheap it is, but almost all of them point out how decent the quality is and how great the instrument works for kids (even beginner adults). 
Pros
It comes with all the accessories you need. 

It is very well built for a starter. 

The sound quality is excellent for the price. 
Cons
It is a lower rung student quality, so be prepared to have something break within a couple of years.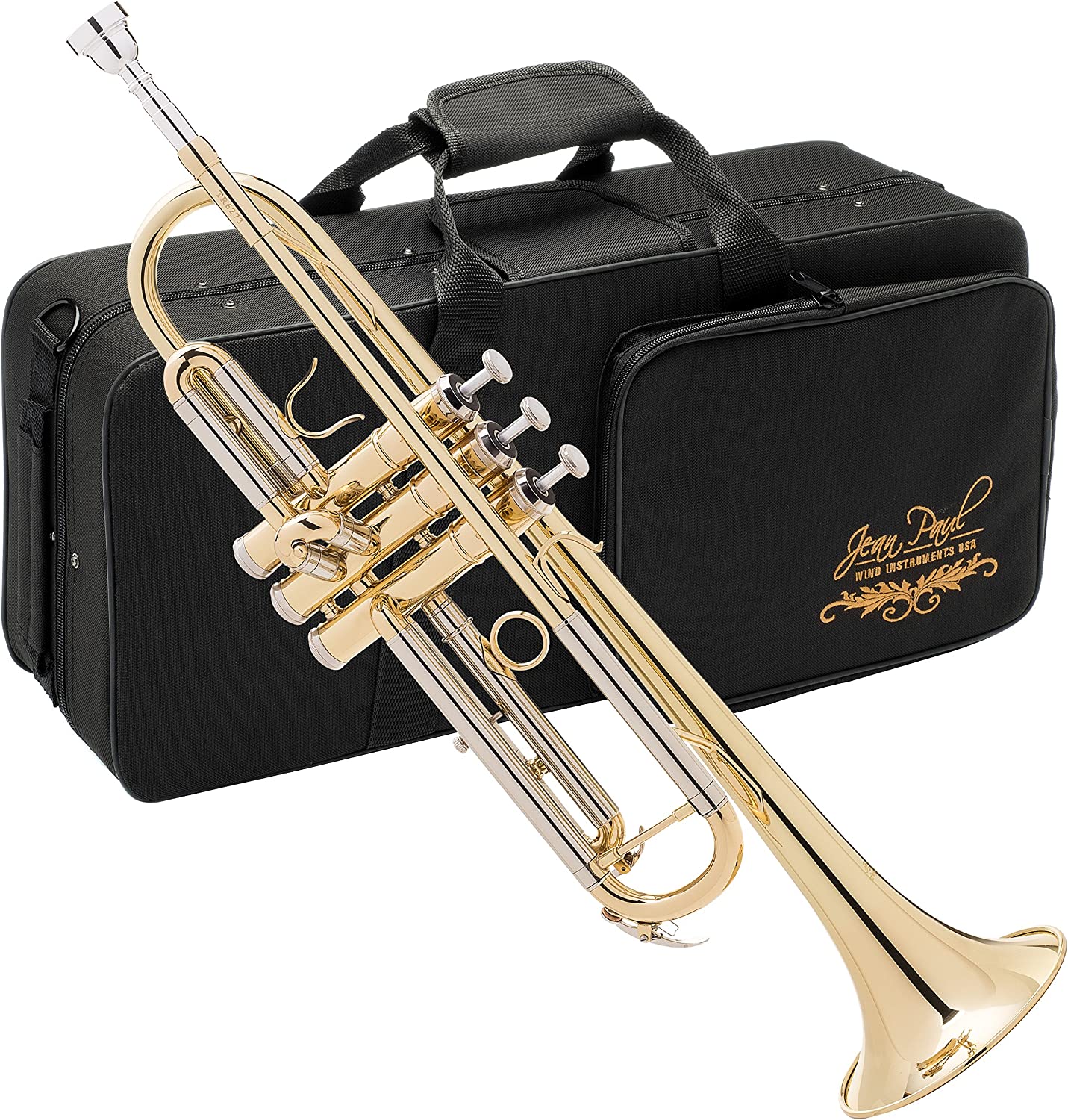 You can upgrade to the Jean Paul TR-330 Standard Trumpet for about twenty bucks more. This is still a kids trumpet but around the 10-12-year-old range. 
I like this brand because it is made in China, but they test it in the US before they sell it. Plus, designed for beginners/intermediates. It is still a student model, but it is one made with your musical progress in mind. That's where that extra twenty bucks can prove a valuable investment; the extra money means a slightly better quality instrument that will last longer. 
You'll hear warm tones from the brass pipe with projection loud enough to bother your neighbors. If you get the kit, then you get the mouthpiece, valve oil, gloves, a cleaning cloth, and a case. 
The reviews are strong. I could hardly find a negative thing said. Lots of parents remarked how happy their children were with the beginner/intermediate model and how long it lasted in accordance with musical skills. 
Pros
You get to pick the "starter bundle" or the "trumpet only," which still comes with a case. 

It is band-grade, so suitable for kids who want to take a music class in school. 
Cons
Intermediate-level musicians might notice the valves are a little sticky but using the oil fixes that. 

It is designed more for middle school students who are taking up the trumpet for school.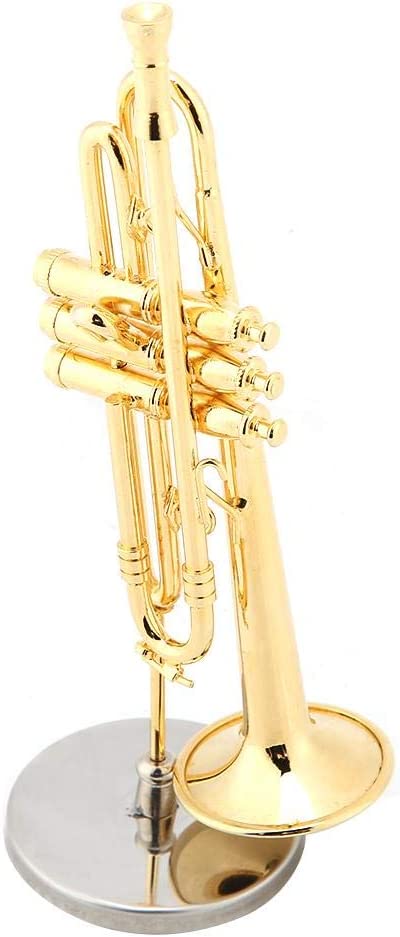 For a lot less, you can get the Simlug kids trumpet. Now, while the Jean Paul Standard is for middle school and above, the Simlug is for small kids who have their baby teeth and aren't starting school. 
Bear in mind, this product is very, very cheap. In fact, half of the customer reviews mention how cheaply made it is. But, again, it is a toy. It is not a real instrument; it is something that kids can play with while still in diapers. 
Pros
It is made of lightweight material. 

It has four buttons that kids can push while they play their musical instruments around the house. 
Cons
It is a toy model, so don't invest in this if your kids are starting band or have actual music lessons.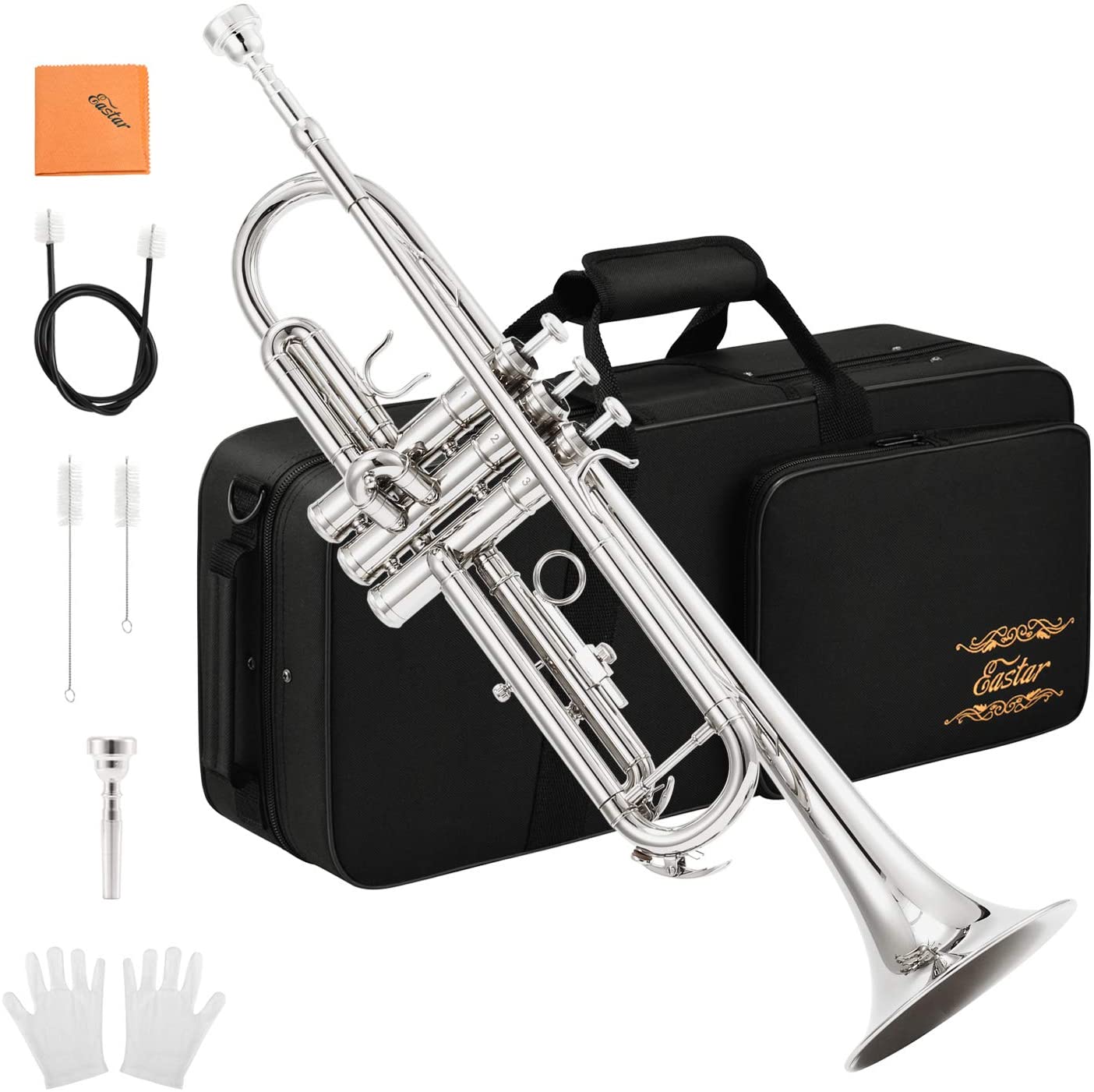 So, if you want some middle-ground between the cheap toy version for a three or 4-year-old and the $220 version that a middle school student can use for band practice, there is the Eastar Bb Standard Trumpet. 
The Eastar model is one of the top sellers online. There are very few negative complaints about it. It comes with a user guide and instructions on how to maintain it, so you not only have all the tools to get started but know how to use them. 
It is made of brass, but it doesn't have the coating on the outside (unless you pay extra for the model, which does), and that can slightly impact the sound, but nothing a kid would notice.  
Pros
You get a trumpet set, so all your beginner items are included. 

It is durable and won't break as easily as the toy models. 
Cons
It is silver, not brass, so the sound is different from all the other models on this list (except the toy).

It comes with a nylon case, not a hard case. 

The company has only been in business since 2017, but they are working hard to make high-quality student instruments. 
FAQ
Question: Is it hard to play the trumpet?
Answer: The trumpet is not necessarily one of the hardest instruments, but what makes it much easier to learn is having the best kids trumpet, one that fits and practices regularly. The more you practice, the better you will get.
Question: What else do I need to play the trumpet?
Answer: You will need a working mouthpiece. Mouthpieces are generally included, and you will find them included in every trumpet I listed. You will also need valve oil, a cleaning cloth, and gloves. I strongly recommend you buy a case to safely store your trumpet and all the accessories.
The Jean Paul model has the option of a "kit" that has these accessories for a higher fee, and every other model I listed here comes with everything you need. Obviously, these requirements do not apply to the toy version.
Question: Why should I get a student trumpet?
Answer: If you are figuring out how to find the best kids trumpet, your options are a toy trumpet for very small children or a student model for slightly older children. Of course, you don't necessarily have to buy a student model for slightly older children, but these models are designed for beginners, they don't cost a lot of money, they are sturdy and reliable, and they make it much easier to learn how to play the trumpet because the instrument works well. 
Question: Where should I buy a trumpet?
Answer: You can buy a trumpet from a local music store or online. A local music store might be a good option if you don't know where to start or you want lots of extra accessories, but just because you visit a music store doesn't necessarily mean the employees will know a lot about the trumpet and be able to help.
While I used to rely on the expertise of the musicians who ran local music stores, I find myself more and more often using the internet because it's more economical (I don't have to drive back and forth across town if there's a problem, I can just have my package picked up and sent back), I can usually find a wider array of answers and comments from other musicians who have used the products I am looking into, and, if they mention a feature or characteristic I don't understand, I can easily look it up online until it makes sense.
Bottom Line
The Bb version is the most common trumpet for kits, and it's also the most popular. If your kid is not yet in school and has their baby teeth (if any teeth), then the Simlug toy model is great. But once they have their adult teeth and are in school, I recommend the Yamaha because it is a reliable manufacturer, affordable, and gives a robust, warm tone. 
Looking for more interesting readings? Check out: