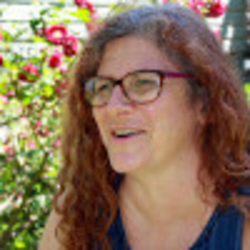 Latest posts by Yvette Davis
(see all)
The clarinet is a versatile and nuanced instrument. It's used in all genres of music, from the more familiar classical, orchestral, and jazz to folk music, rock, and pop. You'll even hear clarinet in movie scores.
Because the instrument is so popular all over the world, it's difficult to pick the best clarinet players. For the purposes of our list, I've chosen influential clarinetists. These are musicians who have changed, altered, expanded, or otherwise improved the acceptance and use of the clarinet throughout its history. Some are early clarinetists who helped shape the development of the instrument. Others are modern musicians whose recordings, performances, and books on the subject are still being studied by musicians today.
Where possible, I've included links to recordings and websites so that you can use this list to further your study of the clarinet. The musicians are listed below in no particular order.
Anton Stadler (1753-1812)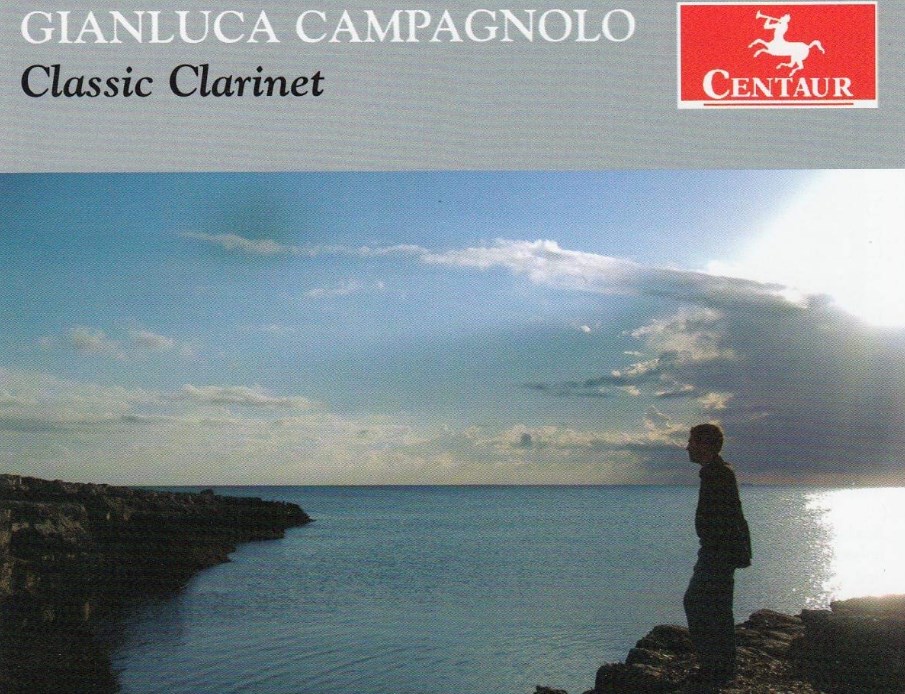 Mr. Stadler was one of the most influential early clarinet players. He was a court musician for Count Dimitri Galizin, as well as Kaiser Joseph II. He also played in the Viennese Imperial Court Orchestra.
Stadler was friends and associates with Wolfgang Amadeus Mozart. Mozart wrote many pieces specifically for Anton Stadler, and Stadler traveled with Mozart to perform a wide variety of music.
Mozart's Serenade for thirteen instruments K 361/370a
Piano Quintet K 452. This piece was written as a duet for Stadler and Mozart.
La Clemenza di Tito was first performed in September of 1791.
Stadler toured on his own as well. He's best known for doing a 4-year concert tour. During this tour, he spent several months each in musically influential cities throughout Europe. The tour took him to Prague, Berlin, Warsaw, Riga, Vilnius, St. Petersburg, Lubeck, Hamburg, and Hannover.
In addition to being an accomplished performer and teacher, Stadler is also known for his compositions. He wrote several duets, trios, dances, and theme variations.
Anton Stadler helped organize a music school in the town of Keszthely. In the process of creating the school, he wrote a book entitled Musick Plan of 1800. In this short book, Stadler outlines the required elements of exceptional music education. His required subjects included singing, piano, performance, music theory, piano tuning, and a solid general education. He also required students to be trained in general good character and psychology of performing. Most of these pillars of good music education are still taught today.
You can listen to Duo fur 2 Klarineten on YouTube.
Ludmila Peterkova (b. 1967)
Ludmila Peterkova was born in the Czech Republic. She is a clarinet professor at the Prague Conservatory. She is a world-renowned clarinet soloist and television moderator. She has also appeared on the Czech television series Hop Nebo trop (Hit or Miss).
Ms. Peterkova has received multiple awards for her clarinet playing, including the Czech Classic first price in 1994. She is a founding member of the Prague Philharmonia and played as their solo clarinetist for 4 years.
She performed with the Prague Symphony Orchestra to open the Mitte Europa 2000 festival, which was attended by leaders of the E.U.
Ludmila Peterkova is an accomplished soloist. She has been featured by symphonies and orchestras and performed solo tours throughout Europe.
Below is a partial list of orchestras Ms. Peterkova has joined in performances.
Solistes Europeens Luxembourg
Elbland Philharmonie Sachsen
Czech Philharmonic Orchestra
Virtuosi di Praga
Prague Symphony
Brno State Philharmonic Orchestra
Pardubice Chamber Philharmonic Orchestra
She has performed solo tours in:
Belgium
United States
Spain
Luxembourg
Slovakia
Hungary
France
Germany
She is an active participant in a regular charity concert series where she helps raise money for the Motol Hospital Children's Neurology Center Endowment. This charity fund helps install intensive care units and support the parents of child patients.
Ms. Peterkova has released 15 albums, and all have been well received by the music community. Her best-selling album is called Playful Clarinet. You can listen to some of her music on her website.
Artie Shaw ( 1910-2004)
Artie Shaw was born in New York City. His parents named him Authur Jacob Arshawsky. He started playing saxophone at the age of 13 and switched to clarinet when he was 16.
Dubbed "King of Clarinet" by his fans, Mr. Shaw was an accomplished soloist, bandmaster, author, and marksman.
Mr. Shaw was known for his big band radio broadcasts. He frequently played those radio shows from New York City Hotel Lincoln's famous Blue Room. He also led the band Cafe Rouge and was the headliner on a radio series. Mr. Shaw was contracted with CBS in 1938 and 1939.
While he was an excellent musician, he was also known to be moody and unpredictable. At one point, he walked off of a live radio broadcast with Cafe Rouge. He quit the band 2 days later and moved to Mexico. He left the music business several times, only to return.
In spite of his reputation of being difficult to work with, when Shaw returned from Mexico, he was hired as a bandmaster almost immediately. He became bandmaster for the Burns and Allan Show with George Burns and Gracie Allen. Shaw was so popular in that role that he earned more per week than Burns and Allen.
Shaw joined the U.S. Navy in 1942 and remained with the Navy until 1944. When he was discharged, Shaw spent some time writing. His first book, The Trouble with Cinderella: An Outline of Identity, was published in 1952.
Shaw went on to publish 2 other books.
I love you, I hate you, Drop Dead, 1965
The Best of Intentions and Other Stories, 1989
Throughout his career, some of Shaw's most popular tunes included
Benny Goodman (1909-1968)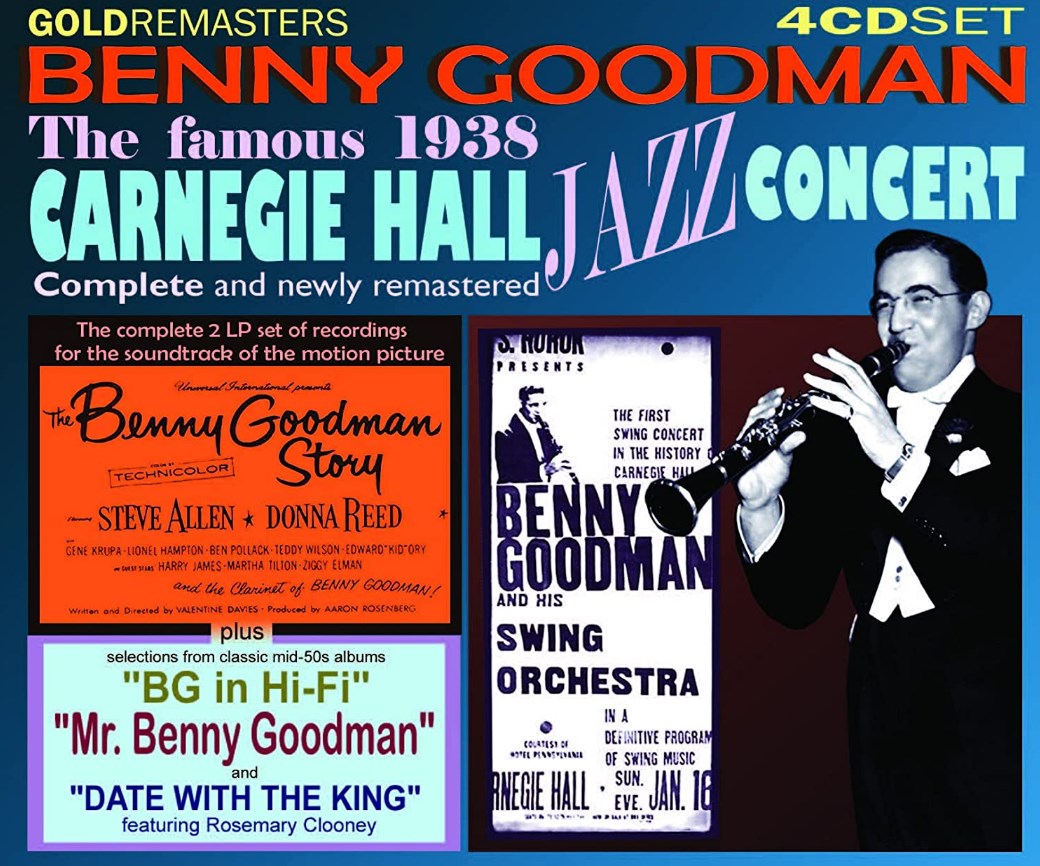 Benny Goodman earned the title of "The King of Swing" for his amazing jazz clarinet performances. He began playing professionally at the age of 13, playing on excursion boats on Lake Michigan. When he was 14, he became a card-carrying member of the musicians' union and played in a band with Bix Beiderbecke. They played at a local dance hall called Guyon's Paradise.
When he was 16 years old, Benny Goodman joined the Ben Pollack Orchestra. He made his first recording on clarinet in 1926, at the age of 17.
Throughout his career, Goodman played with well-known artists Glenn Miller, Tommy Dorsey, and Joe Venuti.
His first album chart hit was He's Not Worth Your Tears, with Scrappy Lambert on vocals. Goodman signed with Columbia in 1934 and created several top 10 hits.
Ain't Cha Glad Jack Teagarden on vocals
I Ain't Lazy, I'm Just Dreamin; vocals by Jack Teagarden
Ol Pappy vocals by Mildred Bailey
Riffin' the Scotch Vocals by Billie Holiday
Moonglow became a number 1 hit.
Take My Word
Bugle Call Rag
Goodman played in Chicago at the Joseph Urban Room at the Congress Hotel. His shows there were covered by radio broadcasts across America. This led to his popularity across the country.
It was during his time at the Joseph Urban Room that Goodman recorded the well-known tunes Stompin' at the Savoy, Goody, Goody, and If I Could Be With You.
From there, Goodman and his band went to Hollywood, CA, to begin Goodman's third radio show, Camel Cavaran, hosted by CBS.
On January 16, 1938, Benny Goodman and his band played at Carnegie Hall in New York. This sold-out concert is still regarded as one of the most important concerts in the history of jazz.
He went on to explore bebop and very much enjoyed the music of Thelonious Monk, Dizzy Gillespie, and Charlie Parker. However, he only played with a bebop band for a year, commenting that he knew swing music the best.
Benny Goodman also commissioned, premiered, and played a wide variety of classical, chamber, and orchestral pieces. Some of which are still clarinet standards today.
In 1956 Goodman recorded Clarinet Quintet with the Boston Symphony String Quartet and Clarinet Concerto in A major, K. 622 with the Boston Symphony Orchestra. Both pieces were originally written by Mozart.
Benny Goodman's band appeared in several films.
The Big Broadcast of 1937
Hollywood Hotel (1938)
Syncopation (1942)
The Powers Girl (1942)
Stage Door Canteen (1943)
The Gang's All Here (1943)
Sweet and Low-Down (1944)
Make Mine Music (1946)
A Song is Born (1948)
Benny Goodman is also known for hiring Black musicians at a period in American history when Black and White people were forbidden from playing together in most clubs and concerts. Vibraphonist Lionel Hampton played for Goodman's quartet. He is quoted as saying:
"As far as I'm concerned, what he did in those days — and they were hard days, in 1937— made it possible for Negroes to have their chance in baseball and other fields."
Goodman was granted the Grammy Lifetime Achievement Award and inducted into the Down Beat Jazz Hall of Fame in 1957. You can listen to his Greatest Hits Album on YouTube.
Sabine Meyer (b. 1959)
In 1982 Ms. Meyer became the first female member of the Berlin Philharmonic. She left the Berlin Philharmonic to pursue a solo career.
Over her career, she has performed with over 300 orchestras throughout Europe, Brazil, Australia, Japan, Israel, Africa, Canada, and the United States. She's given guest performances with the London Philharmonic, Vienna Philharmonic, Chicago Symphony Orchestra, NHK Symphony Orchestra in Tokyo, as well as the Radio Orchestras in Budapest, Prague, Vienna, Basel, and Warsaw.
In addition to her solo and performing career, Sabine Meyer has produced well over 20 albums. Her first album, titled Artists of Our Generation, was released in June of 1990. Ms. Meyer's most recent album, Sabine Meyer – "Fantasia" was released in 2016. You can find a complete list of her albums on her website.
Ms. Meyer is currently engaged in a world tour. You can listen to single releases of her music on her YouTube channel.
Timothy Phillips
Dr. Phillips is the Professor of Clarinet at the John M. Long School of Music, Troy University, in Troy, Alabama. In this position, he is the clarinet teacher for the well-respected Sound Of The South Marching Band and Troy University's critically acclaimed touring and recording group, the Troy University Symphony Band. 
Through his position at the university, Dr. Phillips founded Troy Clarinet Day. This event is held each Spring at Troy University, in Troy, Alabama. Clarinet Day is a worldwide event that brings high school, college, and professional clarinet players together for a master class and performance. This popular clarinet workshop meets at the John M. Long School of Music on the campus of Troy University. Clarinet Day 2021 was the first virtual form of the event. Troy University Virtual Clarinet Day was a huge success. The event was attended by professional and student clarinetists throughout the world.
Dr. Phillips has performed as a soloist in Poland, Illinois, Alabama, New York, Canada, and Florida. He's taught master classes for the famed Prague Conservatory of Music, as well as Prague Academy of Music and the Royal Northern College of Music.
Dr. Phillips has a passion for teaching and helping young clarinetists improve their art. He's served as a judge for the International Clarinet Association High School Competitions in Poland, The Young Artists Woodwind Competition in Mississippi, The University of Oklahoma Clarinet Symposium Young Artists Competition, and many others throughout the United States. His dedication to young up-and-coming musicians shows in his work with his students. He teaches a wide range of ages and abilities and guides each student to find their strengths and improve their weak points. (Full disclosure: Dr. Phillips is my daughter's clarinet professor.)
Dr. Phillips is also the creator and host of a program hosted by Troy University Public Radio called "Clarinet Corner." In his radio show, Dr. Phillips introduces the music of other influential clarinet players from all time periods and all parts of the world. He is a featured artist on Buffet Crampton's PlayWind app.
You can learn more about Dr. Phillips and his projects on his website.
Richard Stoltzman (b. 1942)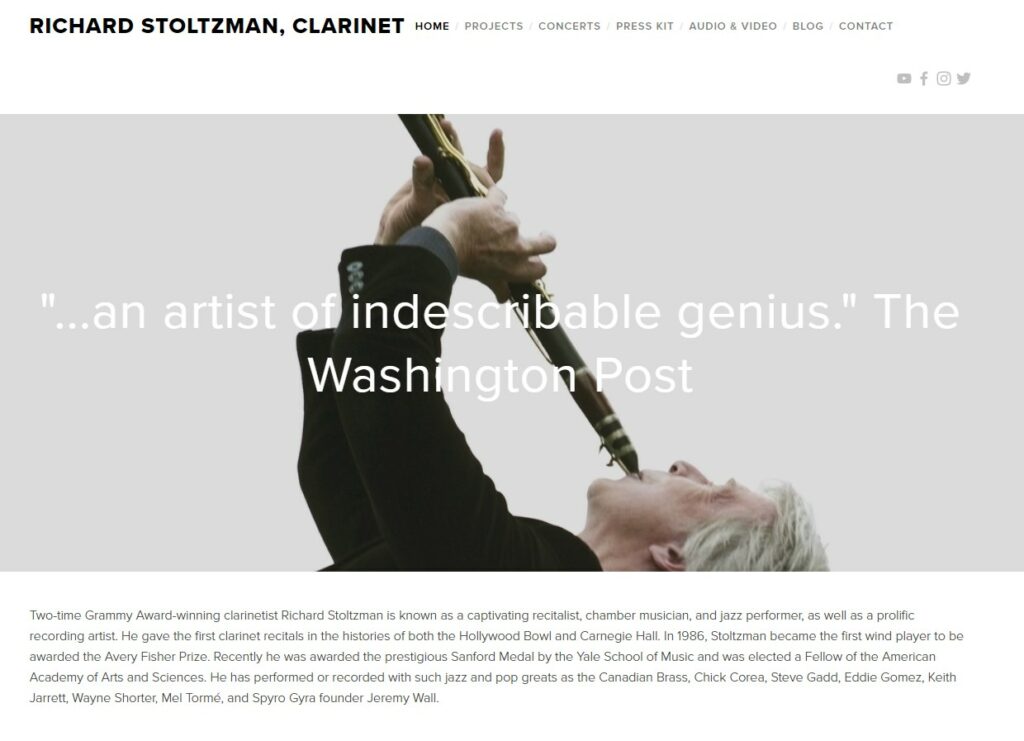 Mr. Stoltzman received his Ph.D. in music from Colombia University. He founded the Clarinet Summit with Kalmen Opperman. The Clarinet Summit is a semi-regular gathering of international clarinetists.
Mr. Stoltzman performs and records classical and jazz music. He's received 2 Grammy Awards. One in 1983, and the second in 1996. He was also the first wind player to receive the Avery Fisher Prize, which is given to American musicians for their outstanding achievements in classical music.
Stoltzman has performed and recorded with a wide variety of jazz and pop groups. Examples include Wayne Shorter, Jeremy WAll, the Canadian Brass, Chick Cornea, and Eddie Gomez.
He has released close to 40 albums, including Father & Son with his son Pether John Soltzman, who is a professional Piano Player.  and Duo Cantando with his wife, Japanese Marimba Maestro, Mika Stolzman.
You can listen to more of Stoltzman's music on his website.
Martin Frost (b. 1970)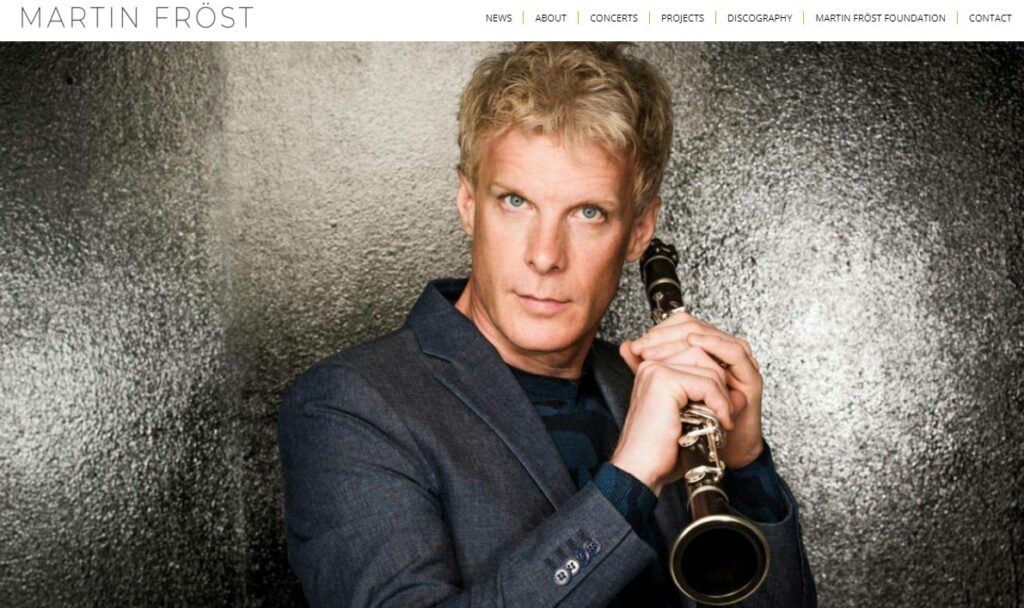 Martin Frost is a clarinet player and conductor from Sweden. He serves as principal conductor for the Swedish  Chamber Orchestra. Mr. Frost is also known for leading the Vinterfest music festival. He served in this role from 2005 until 2015.
Frost has released 22 recorded albums and has won music prizes all over the world.
Frost is known for his projects. Frost enjoys creating elaborate musical performances where he serves as conductor, clarinetist, Master of Ceremonies, lyricist, actor, and dancer. The develops these performances with the Royal Stockholm Philharmonic Orchestra and a team of choreographers, lighting techs, and composers.
You can learn more about Martin Frost's work on his website.
Jimmy Giuffre (1921-2008)
Giuffre played clarinet and saxophone. He was also a composer and arranger. He is known for his creating new forms of jazz music that gave musicians the ability to play improvisation in a free-form style in order to play off each other.
Mr. Giuffre released well over 50 albums in his career. Some of those include:
Tangents in Jazz, Capital Records, 1955
The Easy Way, Verve, 1959
Piece for Clarinet and String Orchestr/Mobiles, Verve, 1959
Dragonfly, Soul Note, 1983
Conversations with a Goose, Soul Note, 1996
FAQ
Question: Who is the most famous clarinet player?
Answer: Benny Goodman. He is considered the "King of Swing." Goodman led the most popular jazz band of the 1930s. His performance in Carnegie Hall is still played and studied by musicians today.
Question: What is a person who plays clarinet called?
Answer: A person who plays the clarinet is referred to as a clarinetist
Question: Who invented the clarinet?
Answer: Credit is given to Johan Christoph Denner (1655-1707) for the invention of the clarinet. He created the instrument sometime around 1689 by making modifications to the chalumeau.
Conclusion
As you can see from our shortlist of great clarinet players, the clarinet is represented in a wide range of musical styles and genres. Studying past and current great clarinet players adds to the skill of clarinetists of any skill level.
Non-musicians who simply enjoy listening to music will enjoy listing to the sometimes sweet, and sometimes sassy, music produced by great clarinetists.
Want to learn more about clarinets? Further read: