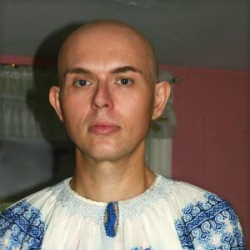 Latest posts by Kenaz Filan
(see all)
The contrabass trombone looks impressive and can play notes that would give tuba players pause. But this giant instrument is anything but gentle on trombonists.  Not only is the contrabass trombone taxing on a musician's arms, shoulders, and lungs. It can also do a real whammy on their wallets.
A contrabass trombone is both a big instrument and a big investment. You want to make sure you spend your money wisely and get the best instrument you can afford.  This is why we've provided you with a helpful guide to finding the best contrabass trombone. But before we go shopping, let's start with a brief history lesson.
What is a Contrabass Trombone?
The 15th century saw the birth of sackbuts, brass horns with movable slides. Sackbuts came in different sizes, including a gigantic bass sackbut that played a full octave below the more common tenor sackbut. Only a few bass sackbuts were produced, as their slides were so long that players had to move them with an attached stick that extended their arms reach.  These Octav-Pousans, as the Germans called them, could only play slow passages and sackbutists complained they required enormous wind and frequently strayed from the pitch.
In 1830 French instrument maker Jean Hilaire Asté built a double-slide contrabass trombone that was slightly more manageable in length. Richard Wagner had German instrument maker C.A. Moritz make a similar trombone for his Ring cycle in 1876. Other composers who wrote parts for contrabass trombone include Richard Strauss and Arnold Schoenberg.
In 1921 Ernst Dehmel patented a contrabass trombone that extended its lower range with valved tubing.  This innovation soon showed up on trombones around the world. While some orchestras use a valveless double slide contrabass trombones for period-accurate Wagner performances, almost all contrabass trombones made today use rotary valves to reach their lowest notes.
The contrabass trombone isn't just used in 19th-century European music. Many film and video game scores have included the contrabass trombone's powerfully projecting sound to create ominous and sinister effects. Other composers use the contrabass trombone to add depth and resonance to the other brass.  Though the contrabass trombone remains an uncommon instrument with a relatively limited repertoire, trombonists with a contrabass in their collection will have an added advantage at auditions.
Here is Vyacheslav Kruglik playing a contrabass trombone with backing from eleven tenor trombones.
Decision-Making Tips
A contrabass trombone is a big instrument with an even bigger price tag. Before you buy, here are a few questions you should ask yourself.
How Long and Strong are Your Arms?
Because a contrabass trombone is pitched an octave below the B♭ tenor trombone, it must have twice as much tubing. That means a contrabass trombonist must move the slide twice as far to reach each position.  A tenor trombonist has to stretch almost 24 inches (60cm) to reach the seventh position. Even the best contrabass trombone players can only reach six. 
Instrument manufacturers have taken several different approaches to make the contrabass trombone less unwieldy.  Some contrabass trombones use a double slide. Instead of the single slide we see on a tenor trombone, a double slide-instrument wraps the tubing, then creates a slide with four rather than two openings.
Today's contrabass trombones also use valves to manage their length.  Orchestral bass trombones use an F valve that lets them play a fourth below the B♭ trombone.  Modern contrabass trombones are 12′ long low F trombones (4/3 the length of a B♭ tenor trombone) with a valve that adds another six feet of tubing in to make them BB♭ instruments like the tuba.
These modern innovations have made the contrabass trombone a bit less ungainly, but they have not made it lighter.  18 feet of brass tubing is going to be heavy no matter how you bend it.
Do You Have Powerful Lungs?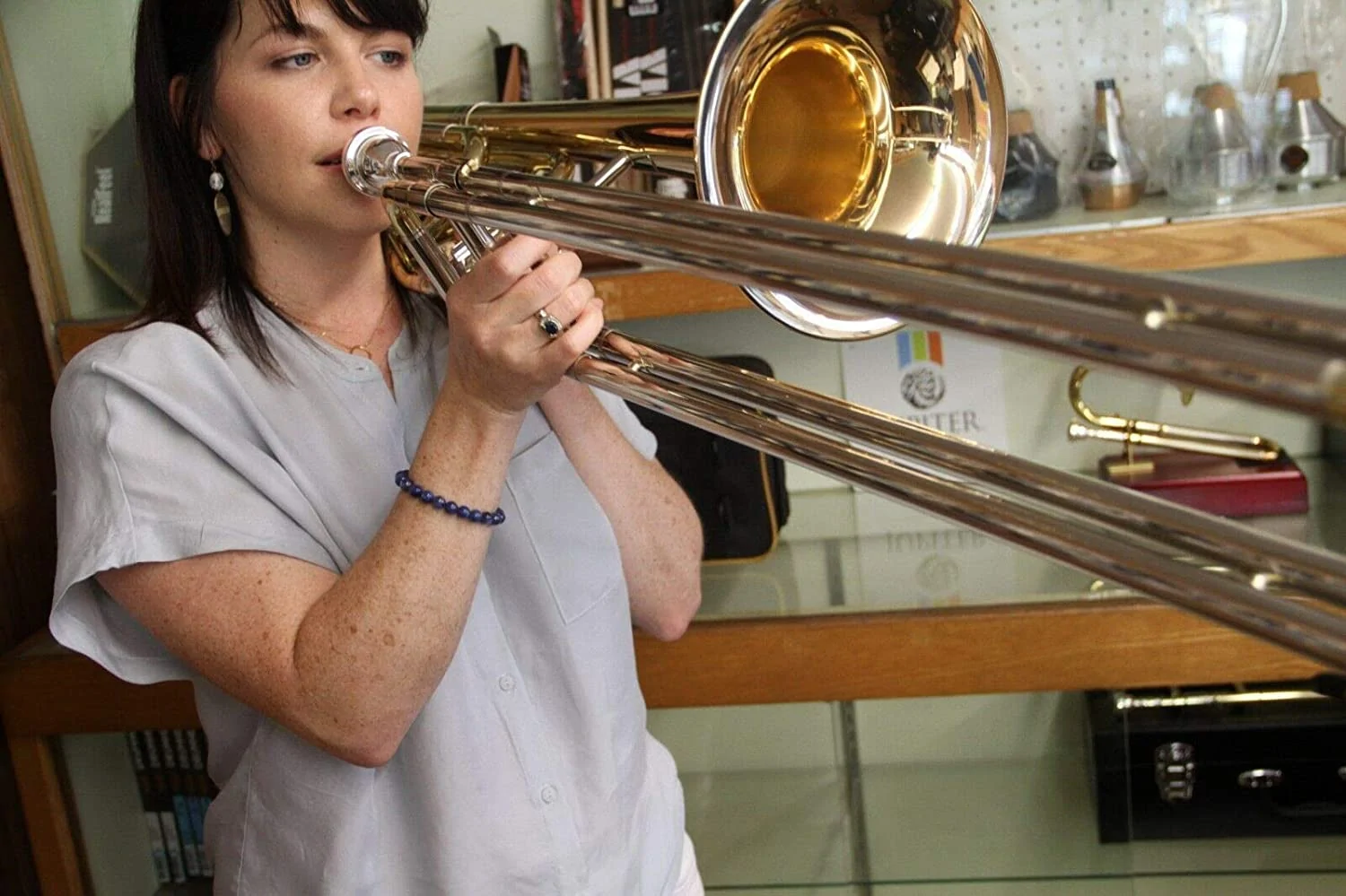 Filling all that tubing with air is no easy task. The contrabass trombone is notorious for its demands on the musician's lung capacity.  It will take all the wind you can blow through it and more. And while you are blowing, you are balancing a large instrument on your shoulder and moving your arm vigorously.
One of the best ways to prepare yourself for a contrabass trombone is to master your embouchure and breathing on tenor and bass trombones. Sloppy embouchure lets air leak out the mouthpiece and bad breathing habits will catch up with you quickly when you are playing a contrabass trombone.
Those who are thinking about getting a contrabass trombone – or anybody who plays a wind instrument would benefit from the breathing exercises of legendary tubist and musical educator Arnold Jacobs.
How Big is Your Budget?
Contrabass trombones do not come cheap. The least expensive contrabass trombone on this list will cost you around $3,500 and you can easily spend well over $15,000 on a good one.  That's an awful lot of money to spend on an instrument that gathers dust in your closet. You can buy contrabass trombones online without a tryout, but you may have trouble reselling them if you find the contrabass is not the trombone for you.
Contrabass Trombone Brands
Many of the biggest trombone makers, like Bach, Conn, and Yamaha, do not build contrabass trombones.  Only a few manufacturers, mostly European, sell contrabass trombones as part of their regular lineup.  These trombones are luxury models built by world-renowned instrument makers and sold at a premium price. But things are looking up with the advent of a new line of serviceable and reasonably priced Chinese contrabass trombones.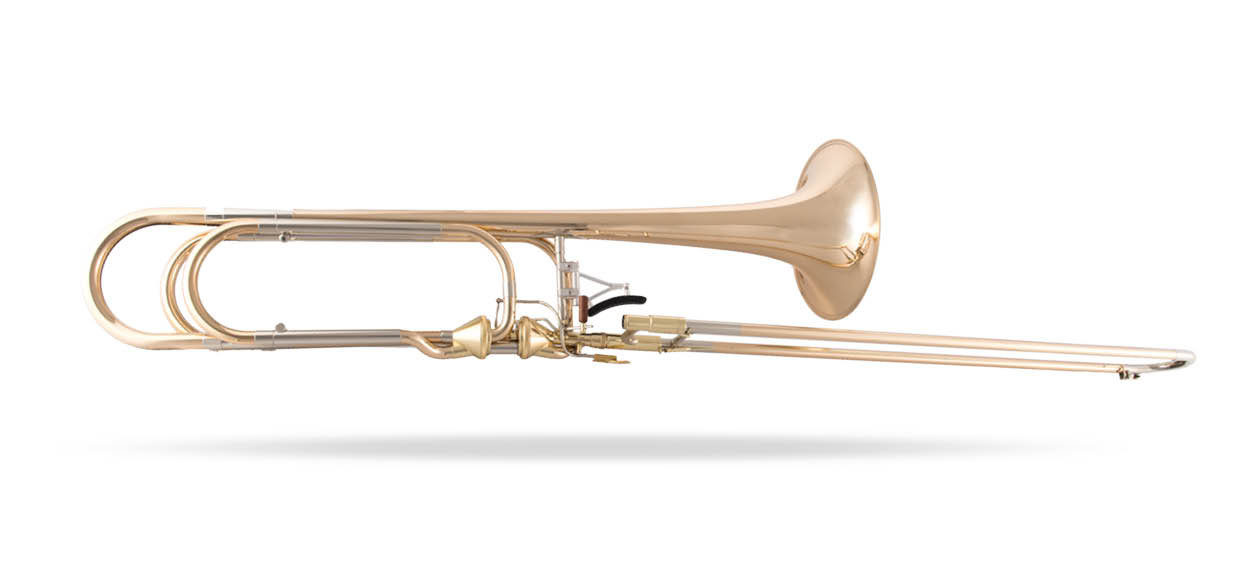 Swiss brass instrument maker HAAG first achieved international fame with their contrabass trombones. Like every HAAG trombone, the HAAG contrabass is made by hand and to order.
HAAG uses axial valves which allow for a freer flow of air and improved timbre when engaged. The contrabass can be ordered with the standard Thayer axial valves or with one-piece Bosc valves.  You can also choose the bell and finish you prefer. The symphonic trombonists in the market for HAAG trombones have strong preferences and HAAG works with them to make sure they get the instrument they want.
HAAG instruments are precisely designed works of art like fine Swiss watches and are priced accordingly.  A HAAG contrabass trombone starts at over $16,000 and prices go up from there.
Pros
Among the world's finest trombones
Handcrafted by master instrument makers
Well-balanced instrument with a glorious tone
Cons
Specifications
Tuning: F/C/D♭ or F/D/B♭
Bore: 14.5mm / .571"
Valve: Axial Valve (Thayer Valve) [Thurbone]
Rotary Valve (Bosc Valve) [Boscbone]
Thumb Lever: German- or American-style
Bell 0:270mm / 10.629"
Bell: hand-hammered gold Brass with or without nickel silver rim
Bell material: red brass, gold brass, yellow brass, bronze changeable or fixed bell
Tuning Slide: Gold brass, brass, copper, bronze
Inner slide: nickel silver, chrome-plated
Outer slide: gold brass, nickel silver
Automatic water flap on the slide
Standard finish: lacquered
Other finishes on request: matte lacquered, vintage style, silver-plated, gold-plated
Accessories: bag, hand brace, slide handle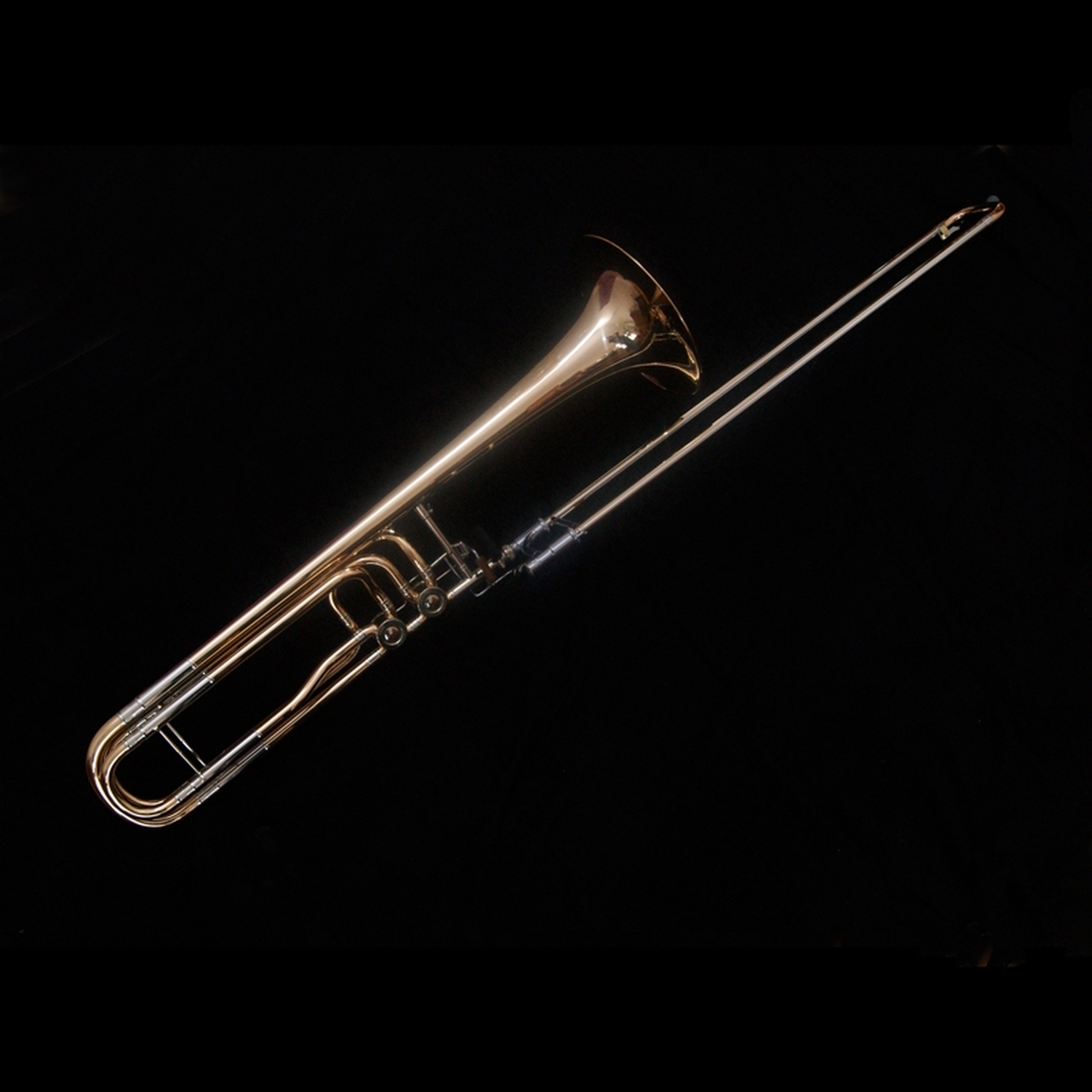 Since 1949 Lätzsch has been building brass instruments that are works of art and science. Their contrabass trombones are among the lightest on the market, thanks in part to Lätzsch's carbon fiber valves.  Lätzsch offers three models, the SL-600, SL-610, and SL-620, which are very similar but were designed in concert with three different world-renowned bass and contrabass trombonists.  You can get your Lätzsch contrabass keyed in F/D/B♭, F/E♭/B♭, or F/C/A, and if you have special requests Lätzsch will work with you, since every Lätzsch contrabass trombone is made to order.
A Lätzsch contrabass trombone will set you back 15,733 Euros, or a bit over $18,000. This is a serious trombone for professionals who are willing to spend whatever it takes to get an instrument that their peers will envy.
Pros
Carbon fiber valves are lighter and easier to maintain
One of the lightest and best-balanced contrabass trombones available
Free-blowing and responsive
Cons
Specifications
Bore: 14,9 mm / 0,586"
Bell: 270 mm / 10,63″
Valves: 16,50 mm / 0,650"
Long water valve
Gold Brass
Lacquered
Includes exclusive Lätzsch case
The Miraphone MI57F is the largest slide trombone on the market today, with a broad thunderous sound to match.   If you're looking to prop up the bottom end of a brass band or evoke the Judgment Day on your instrument, the MI57F may be the contrabass trombone for you.  And though its size may be intimidating, in skilled hands the MI57F can be a surprisingly nimble beast.
One way the German instrument maker trims weight is by using a single valve rather than the double valve system you see on our other contrabass trombones. The single valve system makes it harder to play some contrabass passages in the modern symphonic repertoire. But most professional players will be able to make those notes with some effort, and they may find the superior airflow and lower resistance of a single-valve system worth the trouble. 
While it's not cheap at just a smidgen under $10,000, the MI57F is still less pricy than the trombones listed above.  If you want to focus more on music's low end, Miraphone will plumb the depths and rattle windshields in the parking lot.
Pros
A big trombone with a big sound
Surprisingly nimble if you have the lungs and arm length
Good resistance and feedback
Cons
Single valve may cause problems with the concert repertoire
Specifications
Tuning: B♭
Intonation: 443 Hz
Number of valves: 1
Body: yellow brass
Finish: lacquered
Bell diameter: 240 mm (9,449 inch)
Material valve section: nickel silver trimmings
Valve system: rotary valves
Weight: 3,18 kg / 7,01 lb
Wessex Professional F Contrabass Trombone PF588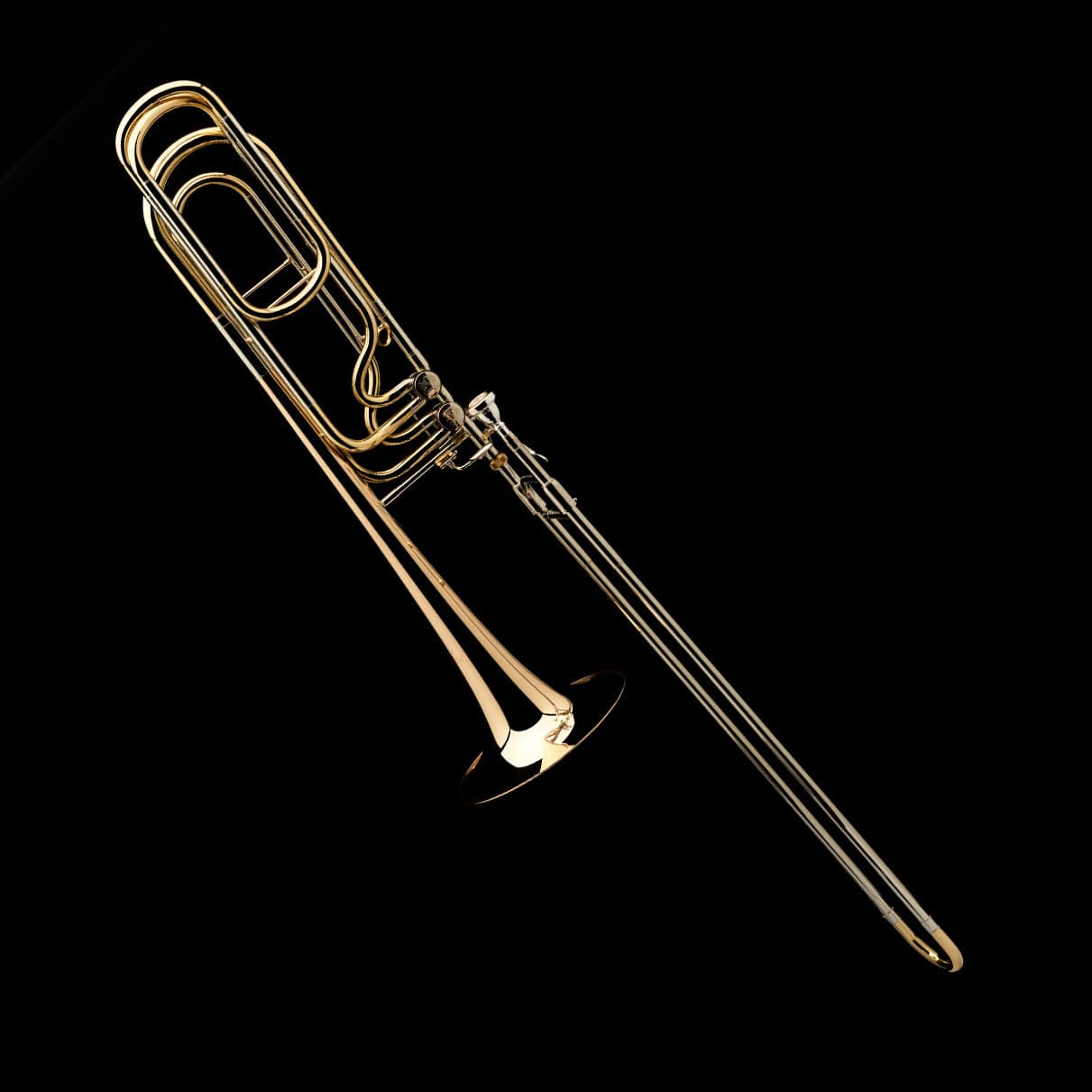 At over $3,500, the Wessex Professional F Contrabass Trombone is not exactly a bargain.  But it is considerably cheaper than the instruments listed above. So how does Wessex do it?
While Wessex instruments are made in China, they are made to the specifications of British tuba player Jonathan Hodgetts.  Wessex has better quality control and customer service than cheaper importers who buy their instruments off the shelf.  They have worked with their manufacturing teams in China for years and have established personal relationships. This lets Wessex get the best instruments they can at very reasonable prices.
The Wessex contrabass trombone may not offer quite the tone and balance of instruments costing three times as much. But when you get 90% of the experience for 25% of the cost, it's hard to complain. Wessex makes instruments that were once only available to pros with deep pockets available for serious students and talented amateurs.
Pros
Less than half the price of other contrabass trombones on this list
Accessible to serious students and amateurs
Wessex has an excellent customer service and returns policy
Cons
There are better contrabass trombones on the market
Specifications
Bore: 0.587″ (14.9mm)
Bell: 10″ (254mm)
Two Regular Rotary valves 0.614″ (15.6mm) bore
Rose brass bell
Lightweight foam body case with wheels
Wessex 1CB mouthpiece
Wyvern engraved valve caps
My Recommendations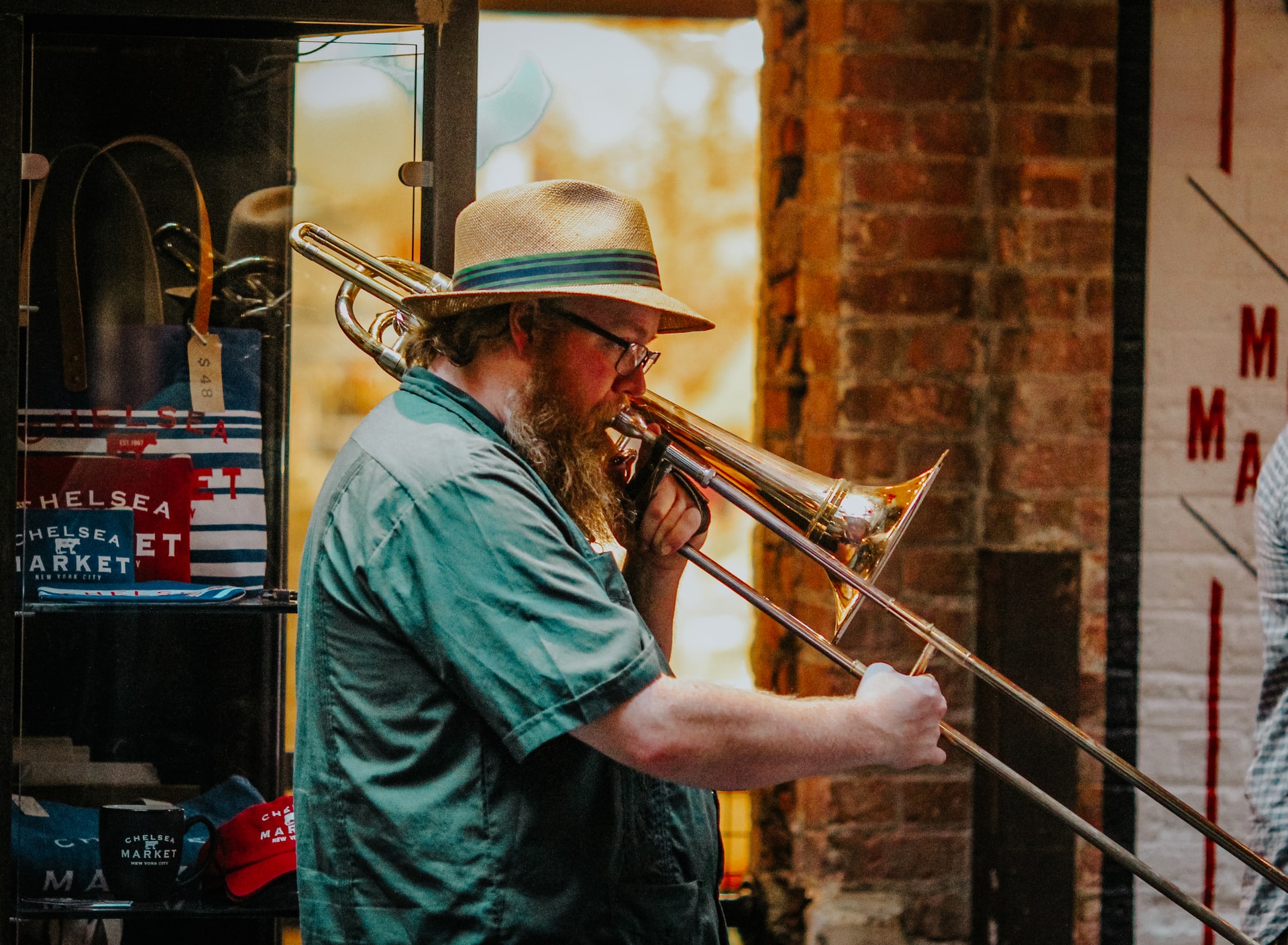 If you are using the contrabass trombone as an occasional second trombone or for personal use, the Wessex Professional F Contrabass Trombone is the best contrabass trombone for you. The Wessex will allow you to play anything in the contrabass repertoire and will hold up to the demands of most trombonists.
If you are a jazz or studio trombonist considering a contrabass, you should check out the Miraphone MI57F Contrabass Trombone.  It has the power to rattle rafters, with easy activities that will let you keep up with the changes.  (You may want to be careful playing this big beast in a small club, lest you knock over drinks in the first row).
For symphonic players, the HAAG Contrabass Trombone or Lätzsch Contrabass Trombone are the best contrabass trombones on this list.  This is a case where "best" comes down to personal preferences. Either of these trombones will serve you well in any professional setting. Given their rather high cost, a flight to Switzerland or Germany might be to try one out personally in their showrooms.
Whatever your choice, the contrabass trombones listed here will rise – or sink –  to just about any musical occasion where you need a trombone to carry the lowest part of the music's low end.
Alternatives
If you want to hit low notes but don't have the lung power for a contrabass trombone, you may find the cimbasso more to your liking. Technically a cimbasso is a rotary valve contrabass trombone. But the cimbasso sounds very different than a slide trombone. It is far easier on your lungs and requires less air than a trombone.  And because the cimbasso is played seated with a stand carrying the weight, playing is not so physically taxing.
The amount of money you will spend on even an entry-level contrabass trombone will get you a very nice bass trombone. While you won't be able to go quite so deep as a contrabass trombone, there is much more demand for bass trombonists. Check out our article on how to find the best bass trombones for more information.
Frequently Asked Questions (FAQ)
Question: What is the Range of a Contrabass Trombone?
Answer: The lowest note on a modern contrabass trombone is A♭0, a step below the piano's lowest key. To play this note the trombonist engages both the  B♭0 and E♭1 valves. Wagner's Ring score, one of the most demanding contrabass lines, ranges three octaves from an E1 to an E4.  While a contrabass trombonist can theoretically go even higher, in practice the contrabass trombone is best suited for filling out the low end.
Question: Is the Contrabass Trombone Hard to Play?
Answer: The contrabass trombone is hard to play because of its size and weight.  Playing a contrabass trombone requires long arms, big lungs, and considerable upper body strength. There are also extra valves involved when going for the lowest notes. Beginners are advised to master their technique on a regular tenor slide trombone before trying their hand (and breath) at playing the contrabass.
Question: How Big is a Contrabass Trombone?
Answer: A contrabass trombone has a bit over 18 feet of tubing. Contrabass trombone designers use valved tubing and creative wrapping to make that 18-feet of tubing more manageable. But you've still got a slide that is better than half again as long as a tenor trombone slide and several yards of brass tubing connected through valves.  No matter how talented the designer, the contrabass trombone will always be a big, bulky, and awkward instrument.
Conclusion
Before you spend thousands of dollars, do your homework. Forums like TromboneChat bring you friendly advice and personal reviews from professional and serious amateur musicians.  If at all possible, try to get some hands-on experience with a contrabass trombone before you commit to buying one.  But don't be surprised if you find the contrabass trombone difficult at first, or if you discover the contrabass is simply more trombone than you can manage.
Wherever your musical journey takes you, happy trombone traveling!
Looking for more interesting readings? Check out: